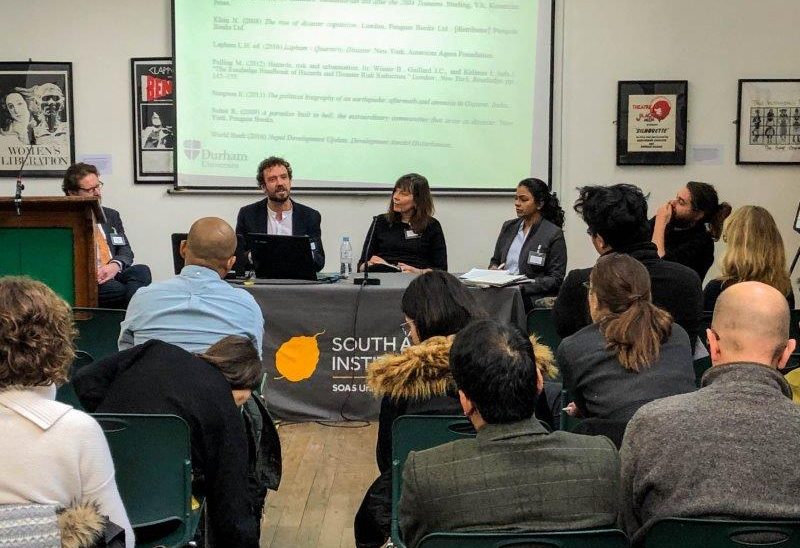 Epicentre to Aftermath: Political, social and cultural impacts of earthquakes in South Asia
6th Feb, 2019
1,772 views
&nbsp ;0
Researchers from Nepal, Pakistan, India, Canada, Finland, France, Germany, Sweden, Switzerland, and the USA travelled to London to join the SOAS convenors and other UK-based researchers for this two-day conference on 11-12 January.  Twenty-five papers were presented in panels on 'citizens, loss and reconstruction', 'recovery and development', 'governance, bureaucracy and politics', 'producing heritage', 'reading sources' and 'interventions'.  Seventeen of the papers drew on research conducted in the aftermath of the 2015 earthquakes in Nepal, while others focused on the Great Bihar earthquake of 1934, the Gujarat earthquake of 2001, and the 2005 earthquake in Pakistan-administered Kashmir.  On the Friday evening Dr Sara Shneiderman of the University of British Columbia delivered a public keynote lecture entitled 'Restructuring Life: political, social, and material transformation in post -conflict, post-disaster Nepal' to a packed audience in SOAS's Scholars and Alumni Lecture Theatre.
The conference schedule was creatively designed to ensure that there was plenty of opportunity for those attending to share comparative insights outside the formal panel sessions.  The conference was also treated to a screening of a meditative film sequence of heritage woodcarving, kindly shared by Britt Hatzius.
The conference was jointly organised and hosted by the SOAS South Asia Institute and the AHRC/GCRF-funded project 'After the Earth's Violent Sway' and it is intended that a selection of the papers presented will appear in published form in due course.
Click here to view the conference paper abstracts.